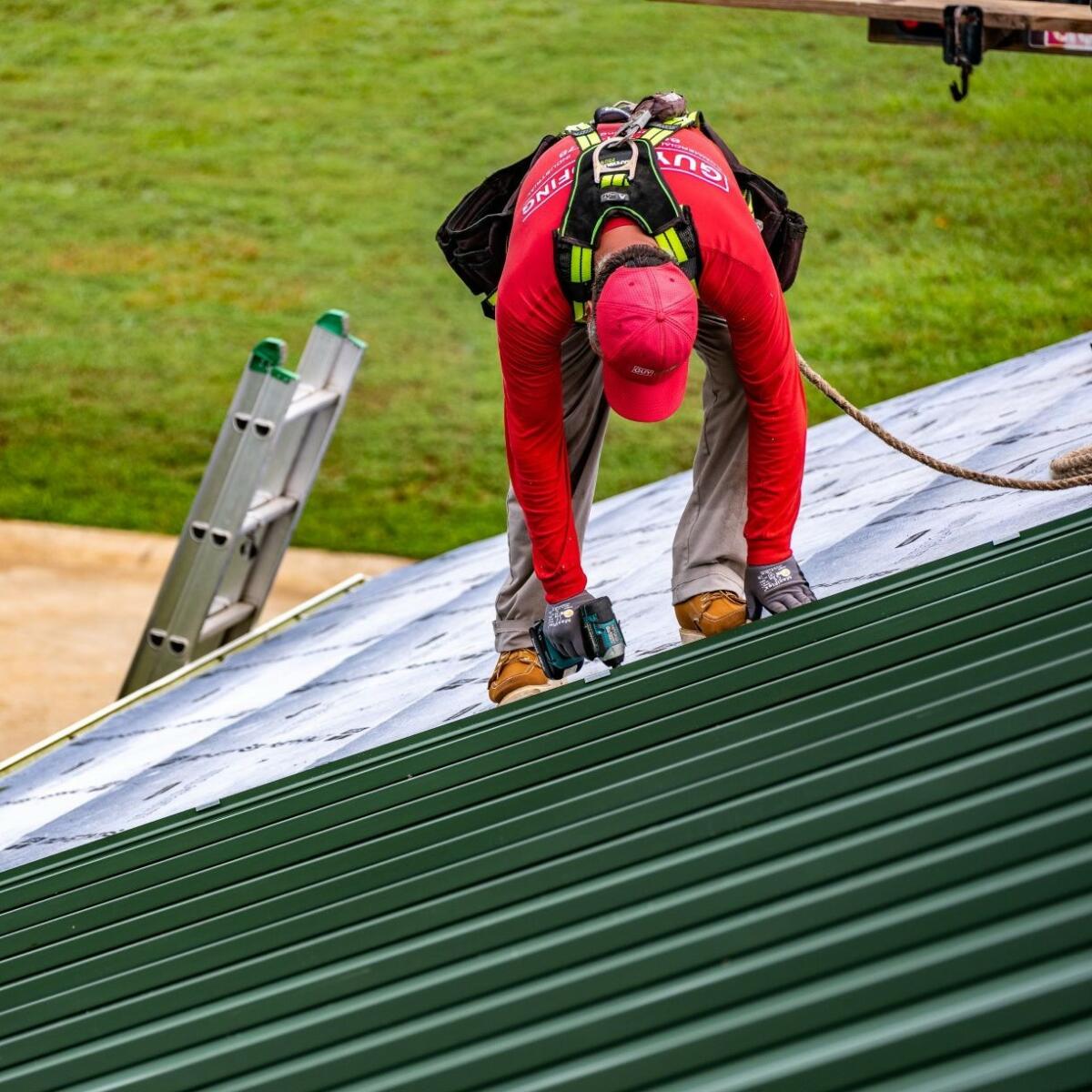 Residential Metal Roofing | Guy Roofing
Providing unparalleled durability and resilience, metal roofing is the preferred choice for homeowners looking for a low-maintenance roofing solution. Metal offers outstanding strength, protection, and weather-resistance. Little maintenance is needed, so lifecycle costs for homeowners are low – and a properly installed metal roof lasts an average of 50 years. What's more, metal roofing is highly energy-efficient – reflecting hot sun during the summer for lower cooling costs, and retaining interior heat better than any other roofing system during the winter. There are various types of metal roofing. Primarily made of aluminum and steel, metal roofing is also available in specialty metals like copper and alloys. Metal roof choices come in two basic forms: standing-seam panels (standing seam metal roofing) or layered shingles. Style variations include finishes, colors, patterns, and more. As you can see, there's a lot more to choose from that just the metal roofing materials themselves.
Metal Fabrication Facility
Guy Roofing houses its own custom metal facility, giving us the added benefit of crafting our own roofing components. Armed with this innovative advantage, we're able to ensure absolute precision and a perfect installation fit. Each piece of Guy Roofing's metal residential roofing systems are custom-made to your home's exact measurements. Plus, the ability to fabricate products in-house eliminates the extra freight and labor costs most homeowners incur, allowing us to offer our customers competitive pricing and a much faster, more efficient installation process.
Check Out Our Metal Shop
Get an exclusive look inside our metal fabrication shop! Each component is custom-made here, tailored specifically for your project. Offering a wide range of colors, sizes, and profiles, you're sure to find the right fit with Guy Roofing!