Modified Bitumen Roofing
Modified bitumen (mod bit) is an asphalt-based single-ply roofing system, derived from the formerly popular tar-and-gravel roofing systems of the 1960s and 70s. As an asphalt derivative, modified bitumen is extremely durable, weather-resistant, and low-maintenance. There are two primary installation methods for modified bitumen roofing: hot (torch-down) or cold (adhesive backing); the type of bitumen used determines the installation method. All modified bitumen is manufactured in sheets for ease of transport and installation.
The two most common types of mod bit roofing are:

APP (Atactic Polypropylene)
Atactic Polypropylene -- known as APP -- is a synthetic polymer material added to bitumen for additional waterproofing support. Because APP is an engineered thermoplastic, it creates a very strong bond with the asphalt and base support layer, creating a resilient finished material. APP is applied using the torch-down application, which requires heat; this creates further waterproofing when molten APP sheets cool directly onto the roofing surface or base layer. Overall, APP creates a harder, more plastic-like membrane.
SBS (Styrene-Butadiene-Styrene)
SBS is another material that can be added to bitumen to create a single-ply system. SBS is a synthetic rubber; when added to bitumen, it creates a more flexible, rubbery material. Typically, SBS and bitumen are applied to fabric or fiberglass sheets for additional backing support.
SBS can be applied cold in adhesive-backed sheets. The rubber-like consistency of SBS makes the finished product puncture-resistant, more flexible, and even self-healing.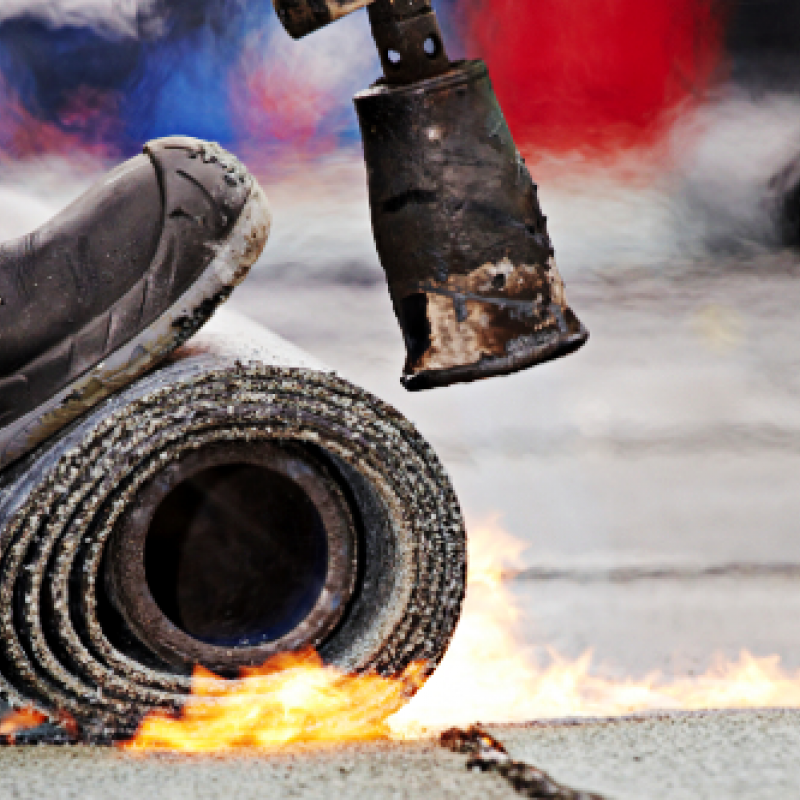 Advantages of Modified Bitumen
Enhance the performance and longevity of a low-slope roofing system by applying a Modified Bitumen Membrane. These systems have a proven track record of durable weatherproofing and offer long-term protection for commercial and industrial facilities.
Durable Weather resistant Easy to repair