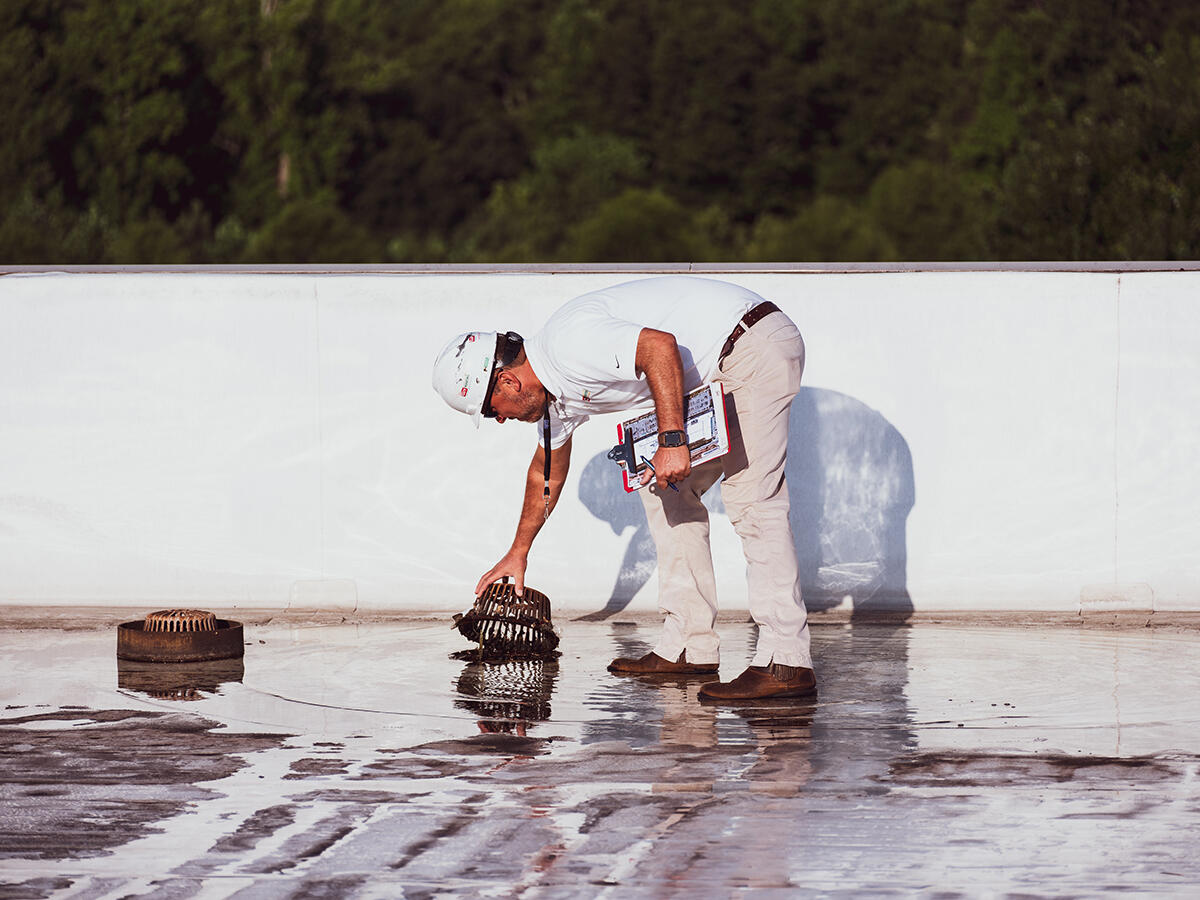 Commercial Roof Repair - Restoring the Condition of Your Roof
When it comes to commercial roof repair, our team knows the importance of addressing issues quickly and effectively. We understand that even minor problems can escalate and lead to significant damage, disrupting your business operations and causing financial strain. That's why we offer comprehensive solutions tailored to your specific needs, ensuring a long-lasting, watertight, and durable roof.
Commercial and industrial flat roofing systems will inevitably need roof repair work. Though flat roofing materials have an estimated life cycle, the right maintenance plan, and experienced repair crew will both extend the life of the roofing materials and improve your roof's performance.

Over time, exposure to sun, wind, and overall environment will affect any type of roofing material. For commercial and industrial buildings with flat roofs, typical roofing systems include mechanically attached TPO, EPDM, modified bitumen, and BUR - or built up roofing. Each of these materials have unique properties, meaning they each have specific maintenance needs and repair processes.

With over 50 years of commercial roofing experience, Guy Roofing understands the individual aspects of each commercial roofing material and specializes in repairs, maintenance, and ongoing commercial roofing support.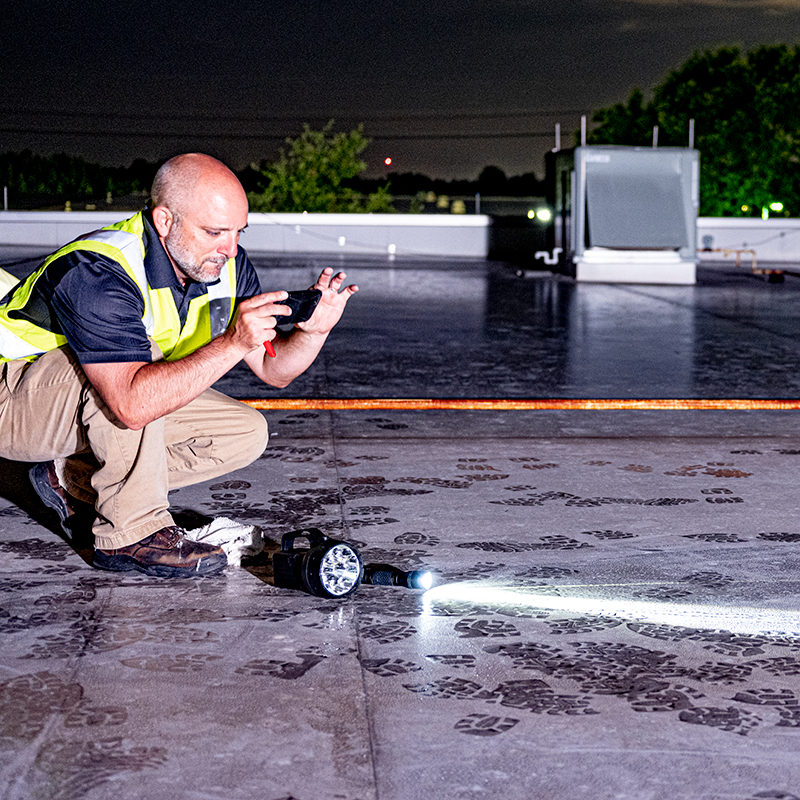 Commercial Roof Leak Repair
Water damage can cause problems for your commercial property, including mold growth and roof failure. Our Guy University-trained technicians are skilled in finding issues and fixing leaky roofs. They use advanced testing methods and quality materials to restore the strength of your roof, extending the time between roof replacements. Finding and fixing roof leaks also helps in preventing future leaks.
Roof Inspections Emergency Roof Repairs Preventative Maintenance Budgeting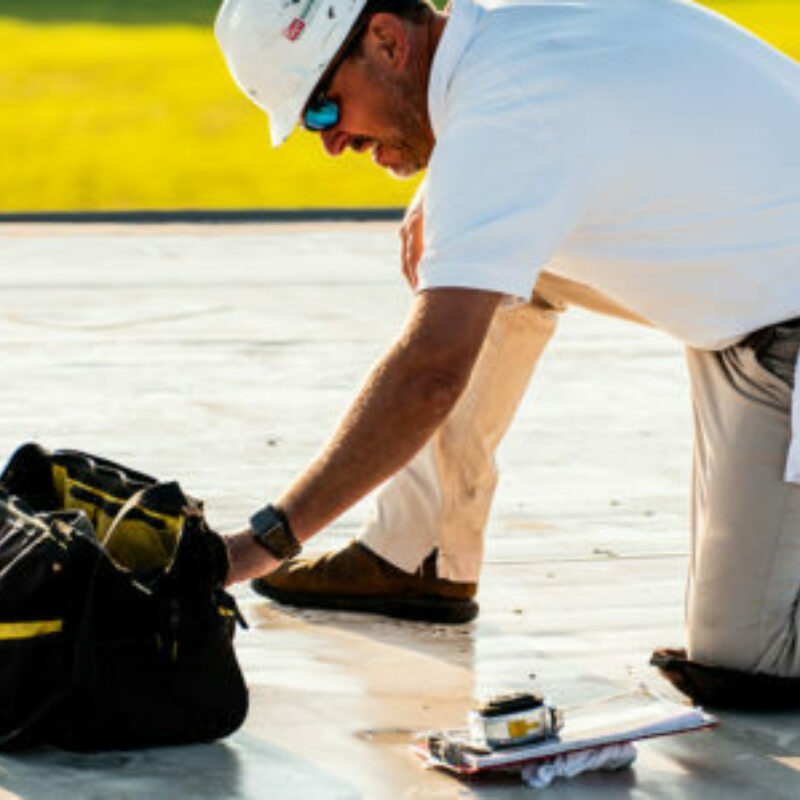 Commercial Roof Damage Repair
Harsh weather and wear over time can damage your commercial roof. At Guy Roofing, we understand the urgency of addressing these issues promptly and effectively. Our skilled team finds and repairs damage to commercial roofs, safeguarding your business from future issues and costly repairs.
Thorough Inspections Custom Solutions Quality Materials and Expert Craftsmanship
Leak Prevention and Future-Proofing
Beyond repairing the existing damage, we also take a proactive approach to help you future-proof your commercial roofing system. Our team provides valuable insights and recommendations to strengthen your roof against potential threats. We work hard to make your roof last longer and reduce the chances of future damage. We suggest protective coatings, strengthen weak spots, and create maintenance plans.
Choosing Guy Roofing for your commercial roof repair means gaining peace of mind. We prioritize communication, timely project updates, and exceptional customer service throughout the entire process. Our team is committed to ensuring your satisfaction and exceeding your expectations at every step. Trust us to handle your roof repair with professionalism, efficiency, and a focus on delivering superior results.
Don't wait until small roof damage turns into a major problem, contact Guy Roofing for expert commercial roof damage repair services. We fix roofs, protect your business, and give you peace of mind.
Commercial Flat Roof Repair Options
Commercial buildings commonly have flat roofs, which present their own set of challenges. Our comprehensive range of flat roof repair options includes efficient leak detection, precise patching, and reliable restoration techniques. Our team will address any issues with your flat roof, extending its lifespan and enhancing its performance.
Don't let roof problems hinder your business's success, contact Guy Roofing today for professional commercial roof repair services. We are here to provide the solutions you need to protect your investment and keep your operations running smoothly.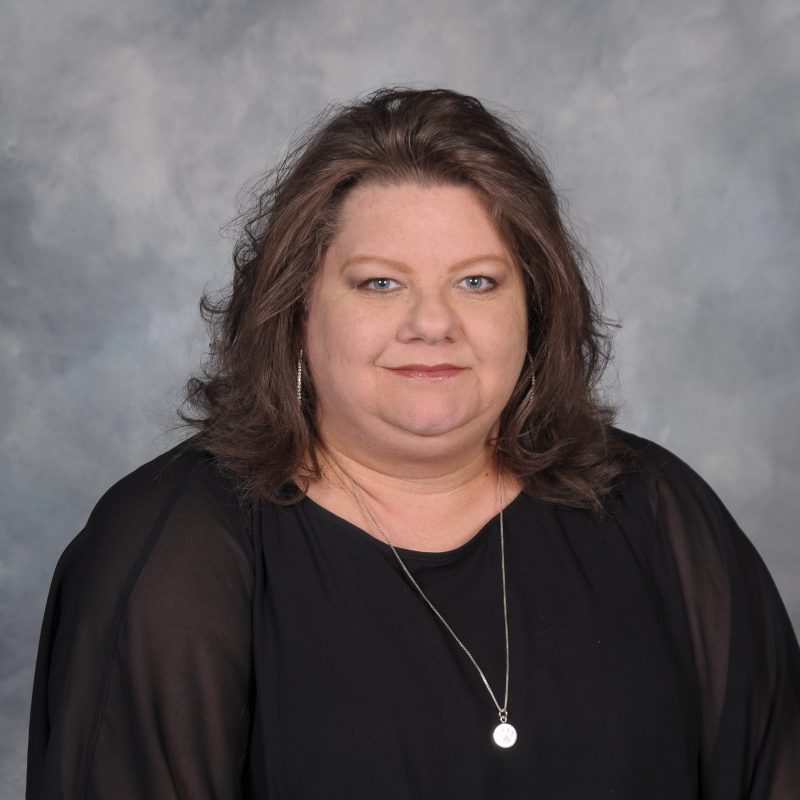 Meet Our Service Manager
Jeanne Kelley
Jeanne Kelley joined Guy Roofing in 2009, as part of the Estimating team for the Commercial and Residential Divisions. She received her Bachelor of Science degree from Erskine college in 1987 and has over 19 years of experience in the roofing industry. In her current role, she is Service Manager for the commercial roofing division and was the recipient of the 2016 Guy Roofing 'Unsung Hero' award for her ability to consistently provide high quality, reliable, and critical work that, if undone, would halt highly visible operations.